Aluminum is often not recognizable at first sight, especially when it comes to aluminium components that fit harmoniously into the overall picture. Such components are, for instance, aluminium profiles. They are used in various areas: for example in mechanical engineering, furniture construction, construction technology or in the solar industry.
Over the years we have specialized in various business areas. In addition to these, we of course manufacture standard and customer-specific profiles for your individual application areas as well. Here you will find examples of our business areas.
Medical technology

Medicine is about quality – especially about being able to guarantee good patient care. For this purpose, clinics and doctor's offices need suitable tripods in order to attach equipment or monitors.
Since aluminum is particularly durable and can also be chemically cleaned so that it is sterile, this material is perfectly suitable for this application. Aluminum is moreover a very light material, which is why it can also be used mobile with castors.
In this area, we offer you full advice and individual products that are precisely customized to the requirements of the medical field.
Furntiure and sanitary facilities

The furniture industry offers a variety of areas in which aluminum is a suitable material to use. Whether as a decorative surface in the living room, kitchen and bathroom or as a system solution for niches in the staircase area: Individuality, flexibility and quality are our trademarks to make your products even more flexible.
Areas of possible use:
>> moldings
>> fittings
>> niche solutions
>> shelving systems
>> showcase and display profiles
>> furniture feet
>> Shower cubicle profiles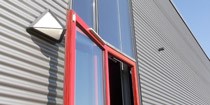 Construction
Aluminum is also an indispensable material in the construction sector nowadays and has already been processed into facade elements for balconies and windows for years.
Aluminium is also used when it is not directly visible, in the supporting structure of constructions and other interior work.
Areas of application:
>> Interior fittings
>> exhibition stand construction
>> Fasteners
>> Rail guideways
>> Door and window profiles
>> Railings & Ramps
Mechanical engineering

When it comes to mechanical engineering, precision and quality are crucial.
Thanks to our state-of-the-art CNC processing, we offer you the highest level of accuracy.
Areas of possible uses:
>> tools
>> clamping block
>> engine parts
>> Rail guideways
>> Camper Solutions
>> Trusses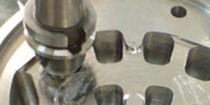 Consulting & Planning

Do you need advice on which work steps are necessary to meet your requirements?
Starting with the planning of the project, we analyze your needs and develop a strategy together. We manufacture your tools and products and take care of the logistics.
Contact us and we will arrange a non-binding consultation appointment.